Ruth WilsonEdit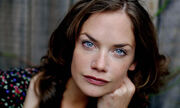 born in Ashford, Kent (UK) and raised in Shepperton, Surrey (UK).
In 2002, Wilson graduated in history from the University of Nottingham. There she was involved in the drama group of the university. Afterwards, she studied drama at the London Academy of Music and Dramatic Art (LAMDA), graduating in 2005.
At 16, she briefly worked as a model.
Wilson co-founded Hush Production with a couple of friends. She also acted in plays that were set up by the production company such as in "Macbeth" or "Romeo and Juliet".
Has three older brothers, Toby, Sam and Matthew.
Subcategories
This category has only the following subcategory.
Ad blocker interference detected!
Wikia is a free-to-use site that makes money from advertising. We have a modified experience for viewers using ad blockers

Wikia is not accessible if you've made further modifications. Remove the custom ad blocker rule(s) and the page will load as expected.