Series One: Episode 6 is the sixth episode of Luther.
Luther is framed by Reed for murdering Zoe in the end of episode 5. An emotionally shatterd Luther roams the streets. Mark arrives at Zoe's house and learns she has been killed. Reed tries to get into the Luther investigation led by Schenk, but DS Ripley is selected instead. Luther contacts Reed and tells him he will "see him dead". Reed enlists Ripley to contact him if he finds Luther, telling him "he [Luther] needs his friends". Mark informs Teller that Zoe and Luther were sleeping together. Reed tells Teller that John is blaming him for Zoe's death.  Teller feels personally responsible since she allowed Luther to return to duty and breaks down in tears, finding solace on Reed's shoulder.
Luther breaks into Alice's flat to hide and informs her that Zoe is dead. Schenk and Ripley visit Zoe's murder scene and realize that something is not right. Luther asks Alice to help him.  Luther contacts Ripley and warns him not to trust Reed. Ripley leaves his phone on so that Luther can hear Schenk investigating the case.  They have found the murder weapon and Luther knows his prints are on it. He plans to steal the incriminating evidence and expose the corrupt Reed , but manages only to further implicate himself.
Luther finally asks Alice why she killed her parents. Reed calls Luther and tells him that he is not thinking right and wishes he were dead. Reed sets up Luther to be killed by the police. Alice kidnaps Mark at knifepoint and takes him to meet Luther. Schenk begins to doubt Luther's guilt. In desperation, Luther must seek
Mark
's help, and place his trust in
Alice Morgan
. Teller confirm's that a "kill order" will be given to take out Luther if required.
Reed waits to meet Luther surronded by police snipers. Reed tries to get Luther to attack him so that the snipers can kill him. Luther whispers to Reed that the diamonds he stole have been taken. Luther pulls a knife and Teller gives the order to shoot but Ripley interfeers  and yells for Luther to run. Ripley is taken into custody as Luther runs away with the police in pursuit. Reed discovers the diamonds are missing and using a hidden camera sees that it was Mark who took them. His behaviour raises the supsisions of Schenk, who reviews the video of the meeting with Luther and Reed further convincing him that Reed is culpable. Meanwhile, Reed tracks Mark back to Luther's hideout.
Schenk ruthlessly interrogates Ripley and concludes that Luther is not the killer. Luther attacks Reed and disarms him. Luther is able to record Reed's confession. Although Reed begs Luther to kill him, he refuses, even though Reed tells him he had an affair with Zoe.  Reed stabs Luther when he tries to arrest him and begins beating him until Alice calls him off with the gun. Alice lets Mark vote whether or not to kill Reed and after Reed disparages Zoe, Mark orders Alice to shoot him. The police arrive while Luther, Alice and Mark stand over the corpse of Reed and Luther asks "Now what"?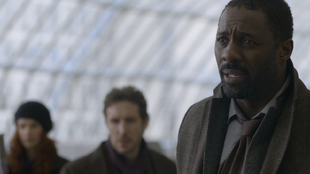 Ending song is "Don't Let Me Be Misunderstood" by Nina Simone
Ad blocker interference detected!
Wikia is a free-to-use site that makes money from advertising. We have a modified experience for viewers using ad blockers

Wikia is not accessible if you've made further modifications. Remove the custom ad blocker rule(s) and the page will load as expected.