Series Three is the third and final season of Luther, for which shooting began in November 2012.
Production History
Edit
When originally asked about a potential third series, Idris Elba said, "We'll have to see what the appetite is like for it at the end of this series. If it's a good, healthy appetite then we'll figure out how we're going to do some more."
In August 2011, BBC One controller announced in August 2011 that a third series had been commissioned. It is expected that the lead cast from the second series will return to make four, hour-long episodes and this will air in either late 2012 or early 2013. On 19 October 2012 the official BBC Facebook fan page for Luther released a video showing Idris Elba holding what appeared to be the script for Episode 1 of the new series "Luther III".
On 1 November 2012, the BBC Luther website and Facebook page put up an announcement in the form of a video 'graphic novel' montage with details about the third series which will consist of four episodes described in the video as 'four perfectly dark chillingly-formed chapters'. A mysterious statement was then made about Alice Morgan: 'is she coming back?....only Alice knows'. It was later revealed that Alice would be back for the third series.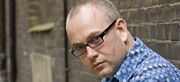 On August 22, 2013 it was announced by series writer and creator Neil Cross that Luther would not return for a fourth season.  There was talk that a Luther movie was in the works.
Season four has been announced and will air in a 2 episode special on 15 December, 2015 on BBC One and on 17 December on BBC America in a three hour special.
New Cast Members & Guest Stars
Edit
Sienna Guillory as Mary Day, Luther's new love interest 03x01, 03x02, 03x03
David O'Hara as DSU George Stark who is committed to bringing Luther to Justice. 03x02, 03x03
Lucian Msamati as Ken Barnaby 03x01 , 03x02
Ned Dennehy as William Carney 03x02
Maria Miles as Tess Barnaby 03x01 , 03x02
Sasha Behar as Dani Lane 03x01, 03x02
Selva Rasalingam as Craig Lane 03x01
Shaun Mason as Sean "Beanie" Beamish 03x01
Kevin Fuller as Paul Ellis 03x02
Elliot Cowan as Tom Marwood 03x03, 03x04
Georgina French as Natalia Green 03x04
Simon Wilson as Dr. Joe Green 03x04
Ad blocker interference detected!
Wikia is a free-to-use site that makes money from advertising. We have a modified experience for viewers using ad blockers

Wikia is not accessible if you've made further modifications. Remove the custom ad blocker rule(s) and the page will load as expected.